Buy Elimite Online
Prevacid Without Prescription
Ultram No Prescription
Prevacid For Sale
Ultram Generic
Buy Prednisone Online
Toprol XL Without Prescription
Amoxil No Prescription
Elimite For Sale
Cipro Generic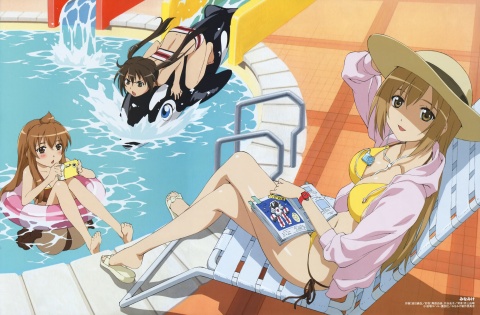 My latest loves in anime is Minami-ke. It's basically a Slice of Life anime, incorporating comedy and romance. It's definately a show for the light hearted, as we follow the "average" lives of the 3 Minami sisters, Haruka, Kana and Chiaki. Each sister is markedly different from the other (they even had an episode where the sisters discussed how different they are but its what makes interesting), each essentially representing one personality type found in anime (or more broadly, everyday life).
Haruka, the oldest sister, who is in 2nd year of High school, is the care taker of the other 2 sisters. She is kind, soft spoken, great at cooking, good at volleyball and popular with friends. But due to her being the care taker of 2 younger sisters, she sacrifices much of her time beign a "typical high schooler" to care and cook for her sisters. She does her best to protect Kana and Chiaki, as well as teach them life skills and do's and dont's
Kana, the middle sister, currently in Junior highschool, is the loud, crazy and idiot sister. She does fairly miserably at school, oblivious to the guy who has a crush on her (as she keeps thinking he's out to get her :p), and says/does the most stupid things, which agitates little Chiaki. She is what makes this show roar with laughter, just the right amount of stupidity

Last but not least, Chiaki, the youngest and brightest Minami sister. As an elementary schooler, she is quite worldly, but too emotionless and mechanical (huge contrast to Kana-chan). She looks up to Haruka greatly and is the only person she is kindest to.
Based on the manga created by Coharu Sakuraba who also created Kyo no Gononi. They have similar comedic style and reminds me much of Azumange Diaoh, except way better and with more plot, even though while watching it, it wounds quite plotless. The animation is top notch, especially during those "dramatic" zoom-in moments, where these kids look very grown up. The OP/ED songs though are nothing spactacular, but is simply typical of such a series, bubbly and upbeat. The OP/ED animation are cute and funny. The secondary characters (the sisters' friends from school) are all also well played and designed. Their roles certainly add a lot of comedy and story to what feels like a story-less show.
I'm up to Episode 7 and lovin' it! Overall, it's a great easy to watch anime, just for laughs sort of anime. It's a very cute show, great character design and awesome voice overs. Minaki-ke is not the show for you if you're looking for something deep-and-meaningful. It's here to brighten you day. A word of warning though, Highly addictive!
For further info, wikipedia might be of help